September 22 marks International Rabbit Day (what, you were expecting Easter?) Today, we're looking at notable rabbit & hare characters and moments in SF/F literature and comics. I will be leaving out cartoons and certain films (like Harvey and Donnie Darko) because they deserve a list all their own. So grab a couple of carrots, wiggle your nose and peruse this list of fantastical lagomorphs.
Let's hop to it.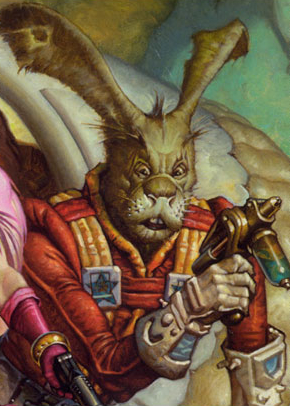 Jaxxon 
Before Jar-Jar there was another long-eared character that divided Star Warriors into the love him or hate him camps. Created by Roy Thomas and Howard Chaykin for Marvel's Star Wars comics in 1977, Jaxxon was a Lepi smuggler from Coachelle Prime. His catchphrase was "you can call me Jax for short…which I ain't" (this is indicating his height which stood at approximately 1.9 meters). In Star Wars Insider 83, Jaxxon is first on the list for "Five Goofiest Moments of the Star Wars Mythos". However in 2012 Jaxxon was placed third in a poll for fan choice action figure. Since sales of Star Wars toys have taken a nosedive, I think a Jaxxon figure would be a sight for sore eyes. Possibly.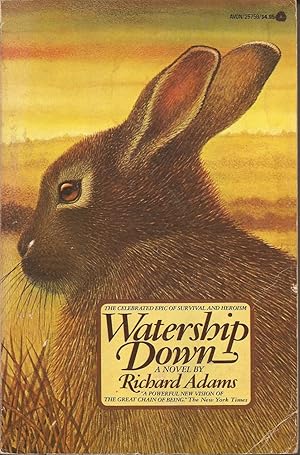 Watership Down 
Possibly THE novel that comes to mind when you mention "rabbits" and "epic fantasy" in the same sentence.
One day while traveling with his daughters on a long road trip, Richard Adams entertained them with stories about talking rabbits. The little girls were so enraptured by the stories, they insisted he write them into a book and Watership Down was born. Published in 1972, it tells the story of a group of rabbits, led by Hazel and his psychic brother Fiver as they search for a new warren. Mind you these rabbits are not anthropomorphic in the usual way: i.e. wear clothes, walk on two legs, etc. They switch between English and Lapine (rabbit language) and they tell myths about their gods and heroes (in particular El-ahrairah and the Black Rabbit) to pass the time. Watership Down was a success and won 3 awards: The Carnegie Medal, The Guardian Children's Fiction prize and The California Young Reader Medal. In 1978 the novel was adapted into an animated film starring John Hurt and Roy Kinnear, which in turn was added to The Criterion Collection in 2015.
Who Censored Roger Rabbit?
No, this isn't the popular 1988 film collaboration between Disney and Steven Spielberg. This is the original 1981 mystery novel by Gary K. Wolf. In this story, humans and characters from comic strips (like Snoopy and Dick Tracy) interact in everyday life. Comic strip characters speak in word bubbles (the kind you see on the printed page) and can create duplicates of themselves for stunt work. Private eye Eddie Valiant is hired by comic strip "toon" Roger Rabbit to investigate a suspicious contract between him and his bosses. Thereafter Roger is murdered, or "censored" and now Eddie must work with Roger's doppelganger to solve the ever deepening mystery.
The White Rabbit and the March Hare 
There's no need for introductions when it comes to these characters from the immortal Alice books.
I have no idea why Lewis Carroll chose a white rabbit or a rabbit hole as an enticement/entrance to Wonderland, but I know that there was a saying in Caroll's day that someone was "mad (or crazy) as a March hare". This is because hares are known to engage in extreme acrobatics during their mating season, which is in March, though mating is the last thing on the March Hare's mind.
Usagi Yojimbo
A character first introduced by Stan Sakai in 1984, Miyamoto Yojimbo (usagi is Japanese for rabbit) is a ronin fighting injustice in feudal Japan. The comic series is famous for 1.) being one of the longest running comics written and drawn by one person 2.) it's well-researched depiction of feudal Japan and 3.) crossing over with Teenage Mutant Ninja Turtles from time to time. Hmmmm, rabbits and turtles together in one story. Who would've thought of that?
Bucky O'Hare
Another comic book about a green rabbit and his crew fighting an evil Empire in space. Except the rabbit is the main character, the human is the sidekick, the ship is called the Righteous Indignation and the Empire is made up of… toads. Like Miyamoto Yojimbo, Bucky O'Hare and the Toad Wars was created by a Japanese man (Larry Hama) and debuted in 1984. Unlike Miyamoto, the series was short lived. However it's been adapted into a 1991 cartoon series and two video games.
Hoppy the Marvel Bunny and Captain Black Bunny
Trying to cash in on the "funny animal" comics craze, Fawcett Comics introduced Hoppy and Black Bunny to the Captain Marvel universe in 1942 and 1945 respectively. Hoppy idolizes Captain Marvel so much he gets bonked on the head and earns the powers of Shazam! from the Bunny Wizard (just go with it). Unlike his human counterpart, Hoppy has a love interest named Millie who (like Lois Lane at the time) was attracted to Marvel Bunny but couldn't stand to be around meek and mild Hoppy. Then there was his foe Black Bunny whom, you can guess by now, is modeled after Black Adam except he comes from the earth's core and is aided by imp henchmen. So I guess he's a hellbunny.
Thunderbunny
40 years after Hoppy, Charlton Comics gave us Thunderbunny, the heroic alter ego of a boy named Bobby Caswell. How did a human boy develop the power to turn into an anthropomorphic rabbit? Well, Bobby got his hands on a box shaped device that held the essence of Thunderbunny, the last survivor of an alien race. The power inhabited his body, turning him into a muscled, humanoid rabbit (again, just go with it). He also has super strength and flight. Not surprisingly, Bobby is embarrassed to be seen as his cunicular alter ego and the more he stays in that form, the less likely he can change back to his human form. But, duty calls…
Night of the Lepus
In case you didn't know, lepus means rabbit in Latin.
A 1972, "horror" movie about giant mutant killer rabbits who "terrorize" a town and must be destroyed. That's all you need to know about the plot. You can watch the trailer here and enjoy the Rifftrax video here. I, for one, was rooting for the rabbits.
Did I make you mad as a March hare when I hopped over your favorite? Sound off in the comments. In the meantime here's some pictures of "mythological" rabbits far scarier and more bizarre than Night of the Lepus. Enjoy.